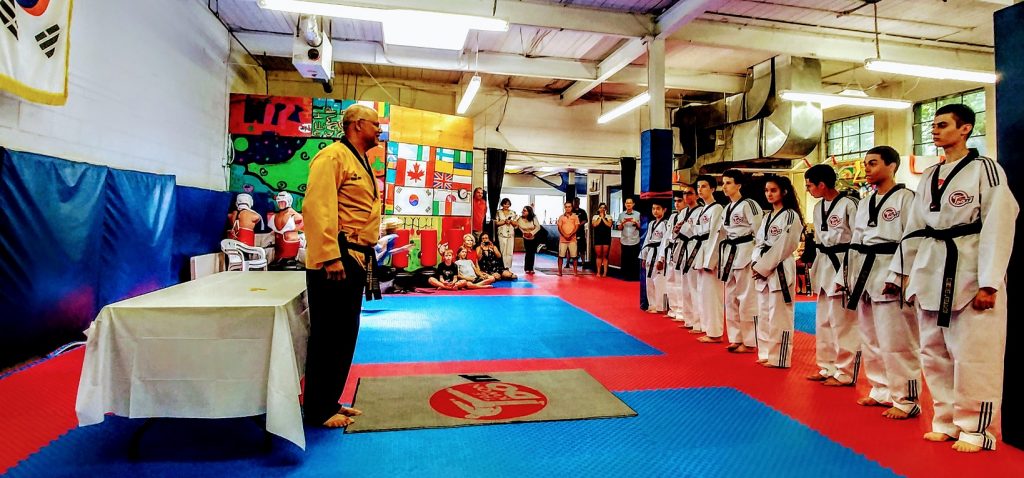 Our Mission
Etobicoke Taekwondo's primary aim is to promote the Sport of Taekwondo and its accompanying benefits through the highest quality programs, that are accessible, affordable and fun in Toronto.
Our History
In 1985, there were no World Taekwondo (WT) programs in Etobicoke (a suburb west of Toronto). So, in September of that year, Master Deh started giving lessons through the City of Etobicoke's (Parks and Recreation, Community) programs. For over 9 years, he ran successful and well-attended classes.
By the Fall of 1994, there were over 600 participants training in 9 locations throughout Etobicoke.
However, in March 1995, Master Deh ended his association with all city programs and incorporated the name "Etobicoke Taekwondo," first as a "not-for-profit" organization with many "community" locations throughout Etobicoke (1995-1999), then later, as a "for-profit" business with one single location (2000 to present).
With his slogan 'TAE KWON DO IT', it was Master Deh's expressed goal to make Taekwondo a household activity in our community. We are proud to say that he has achieved this goal, and more!
Today, Etobicoke Taekwondo remains strong, and by far, the premier Taekwondo school in western Toronto and eastern Mississauga!
Recognition Awards
Etobicoke Guardian – Reader's Choice Award: 'Best Martial Arts School'
World Taekwondo – Letter Of Commendation (April 2007 – No. 07035): "unlimited efforts of self-sacrifice to bring about the development and popularization of Taekwondo"
World Taekwondo Headquarters (Kukkiwon) – Letter of Commendation (October 2010 – No. 10076): "outstanding contribution to the development and dissemination of Taekwondo"
Ontario Taekwondo Association – Plaque Of Recognition: "contribution to the continued growth of Taekwondo development in Ontario"
Lions International – Plaque Of Recognition: "work with children"
Competitive Awards
1988 – National Capital Championships, Ottawa, ON – Silver Medal
1987 – Canadian National Championships, Saskatoon, SK – Silver Medal
1987 – Ontario Provincial Team Member at the Canadian National Championships
1983 – World Taekwondo Championships, Copenhagen, Denmark – Consolation Trophy ('Fighting Spirit')
1983 – Sports Writers Association of Ghana – Athlete of the Year (1982)
1981 – African Open Championships, Yamoussoukro, Ivory Coast – Silver Medal
1980/81 – Ghana National Championships, Accra – Gold Medal (1) & MVP (2)
Points of Interest
2010 – Participant, 2nd World Taekgyeon Games & International Martial Arts Expo (Chung-Ju, Korea)
2008 – Olympic Taekwondo Host, Canadian National Exhibition: "Celebrating the (Beijing) Olympic Spirit"
Member, World Taekwondo
Member, African Taekwondo Union
Member, Taekwondo Canada
Member, Ontario Taekwondo Association
Member, Ghana Taekwondo Association
Member, Coaching Association of Canada
Member, Toronto Sports Council
Canadian Living Magazine – feature article on Etobicoke Taekwondo (September 1996)- by Eleanor Ward