Grand Master Michael Kwame Deh
B.A., 7th Dan (Kukkiwon), First Aid Certified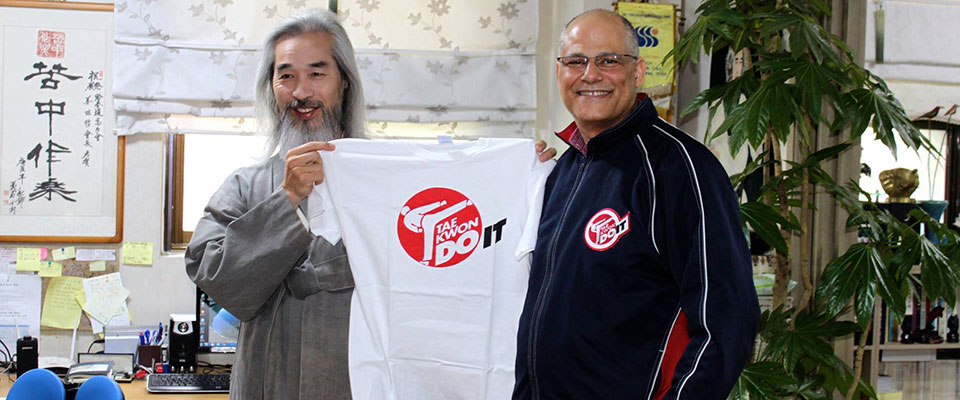 Master Deh was born in Toronto, but lived for over 20 years in Ghana, West Africa, where he spent all his childhood. He returned to Canada in 1985 to pursue a post-secondary education, settling in Etobicoke. In the Fall of that year, he started running Taekwondo classes for the City of Etobicoke (Recreational Community Programs), thus, launching Etobicoke Taekwondo.
Master Deh was introduced to Taekwondo in 1975 by Commander Keith Dadzie, a Ghana Navy Officer. His first training area ("Do-Jang") was the dusty ground and asphalt driveway of his Teacher's house, across the street from his parent's house on the Burma Camp Army Base, Accra.
Master Deh's second Teacher (1976 – present), Grand Master Ki Ok Gwak, arrived in Ghana from the Kukkiwon (World Taekwondo Headquarters) to train the Ghana Armed Forces in unarmed combat. After almost three decades in Ghana, GM Gwak has returned to Korea and is a technical consultant at the Kukkiwon.
Master Deh's third Teacher (1986-1991), Grand Master Young Su Choung, is former Canadian National & Olympic Team Coach, and current Board Member of Taekwondo Canada. GM Choung has produced many of Canada's to Athletes & Coaches.
For over four decades, Master Deh has been a Champion in the ring, an Ambassador in the community, and a passionate and dedicated Advocate for those who need help through Taekwondo, in Africa and in North America.
For Ghana, he was an Athlete (1981 African, 1983 World Championships), a Coach (1993 World Championships/2012 Canada Open Championships), and as a Sponsor and mentor to members of the Ghana Taekwondo Association.
For Canada, he was an Athlete (1987 National Silver Medalist – Saskatoon, SK), a Trainer (1990 Ontario National Championships Team – Vancouver, BC), and a promoter of local community programs throughout the greater Toronto area.
At 51 years of age in 2013, Master Deh has taught thousands of children in Ghana and Canada. He is so passionate about Taekwondo that he continues to work on the floor everyday(!); developing the next generation of leaders, like the constant gardener.